667 Dark Avenue, Answering all the Wrong Questions
Website Statistics
Founded

22nd June 2002

Total Members

7,612 [1]

Total Topics

33,442 [1]

Total Posts

879,592 [1]
"There are people who spend hours sorting out the mysteries of all things Snicket, on the web discussion site 667 Dark Avenue (named for the apartment building in 'The Ersatz Elevator')."
—Chicago Tribune, October 26, 2012
667 Dark Avenue is a forum community of Lemony Snicket lovers who spend their time trying to solve Snicket's mysteries, located here.
The forum was founded on June 22, 2002 by Tragedy and currently has a total of 7,612 members.[1] 667 Dark Avenue will celebrate its 15 year anniversary on the June 22, 2017.
Website history
Main article: 667 Dark Avenue: Noble Enough - Event Timeline
to be added
Important threads
Notices (Announcements)
Due to the increase in large signatures, the 667 staff have come to a decision to impose new signature size rules. The new size limit for signatures is 9cm's in height and 19cm's in length (See here or click link in important threads section above). This rule has been in action since Febuary 6th, 2012.
Member profiles
Each member has their own profile which is used to identify them on the website. A member profile records various statistics such as rank, posts, join date, location, e-mail and gender (although personal information can be hidden for privacy if needed.)
Usernames and Display names
Each member must have a unique username to sign in to the forum with, allowing them to comment on threads and message other members. A member chooses their user name when registering for a profile on the forum. This acts as an online identity for the member without having to give out personal information, such as a real name, on the internet. If a member wishes, they can change their 'Display Name' to what ever they desire (If inappropriate a moderator can change it). If you change your display name however, that does not mean your user name will be any different. You will still have to log in with your user name, not your display name.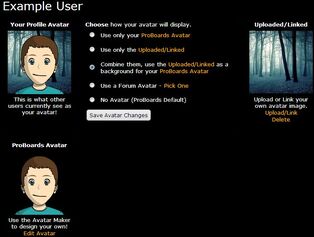 Avatars
An avatar is a picture used to help identify a member on the forum, although you do not need to add one if you do not wish to. An avatar is displayed next to the member's user name and rank on there profile page and also appears next to anything you post on the forum. A member can use a number of things as their avatar to show off their personality. There are three types of Avatars you can have. You can choose from a variety of default avatars that are already on 667, or you can upload any image you desire. To do this you must go into the 'Avatar' section while editing your profile and click on the text on the right that says 'Upload or Link your own avatar image'. You can upload an image from your file by clicking the 'Select Image' button or copy the image you want's URL and paste it in the box labelled 'Link Image'. Also try and get an image that is already square so that it fits into the avaliable space making te image bigger and easilier to see. The third option is to create your own personalised avatar which you can customise at any desired interval. If you have uploaded an image and created a personalised avatar, you can make them overlap (See Fig. 1) and make this as your avatar.
Signatures
A signature is one of the numerous ways members can express themselves at 667 Dark Avenue. It is important that a member uses their signature to show something about themselves that makes them unique. For example, they may use a poem to express their creativity or a banner to show their drawing or internet related skills. A member may simply put a quote that they find interesting, a link to their webpage, or just some information about themselves. It is compulsory that if a member uses anything created by someone other than themselves that they get permission from said person. A member's signature is displayed below each post that the they make. If a member wins Member of the Month/Year or they win a Darkies Award then they will recieve a banner made by another member for the person who won to put in there signature.
Ranking System
Below each member's name there is an alliterated title with an accompanying row of stars. This is the rank of the member, which reflects the amount of posts made. Once a member makes a certain number of posts their title and their row of stars, automatically change. When a user reaches 6670 posts, an admin or a moderator will create a custom title (Of the members choice) for them. Below is a list of the ranks and the number of posts needed before their title can change.
Nasty Newcomer, 0-9 posts 

Reptile Researcher, 10-49 posts
Catastrophic Captain, 50-99 posts
Formidable Foreman, 100-199 posts
Pessimistic Professor, 200-299 posts
Vindictive Villager, 400-499 posts
Splenetic Surgeon, 500-999 posts
False Fortune-Teller, 1,000-1,999 posts
Xenial Xylophone, 2,000-2,999 posts
Miserable Mariner, 3,000-3,999 posts
Corrupt Concierge, 4,000-4,999 posts
Definitely Doomed, 5,000-6,669 posts
Custom Title, 6670+
The Boards
The Antagonistic Affairs
Annoucements, Warnings, Contests, etc.
Suggestions, Complaints and Questions.
New Members can introduce themselves here, and old members can bud us farewell.
The Ravaged Resources
A vault of valuable Lemony Snicket-related articles and reports. Read only.
A compilation of only the most well-explained, fully conceived theories.
Please visit our appalling affiliates.
The Burdensome Books
Anxiously analyse All The Wrong Questions, Lemony Snicket's ongoing prequel to ASoUE.
Discuss anything dealing with ASoUE. Post theories and ideas
Dedicated to all the character from ASoUE, from Count Olaf's theater troupe to the Baudelaires.
Exchange information on any location in the Series.
Come here to discuss Lemony Snicket, Daniel Handler or any other laughing God involved in the Series.
The Malignant Merchandise
Discuss items such as the ASoUE calender(s), the magic 8-ball and e-bay autions for ASoUE merchandise
Dediated to the 'A Series of Unfortunate Events' movie, movie items and movie news
Links to websites, wallpaper/screensavers and online games. ASoUE related sites only.
The Forsaken Fan-Work
Post your ASoUE pictures and sketches here. Also, this is the best place for Helquist/Seth-worshipping.
Post your prized stories or Snicket fan-fictions here
Form in-site fan clubs and create ASoUE Role Playing Games here.
The Objectionable Others
Discuss Non-ASoUE topics. Chat, get to know each other, and discuss random things. (Double posting allowed)
This is a section for serious discussion such as politics.
General book-talk, including sub-sections for Harry Potter and Lord of the Rings.
Horrible Harry Potter                                                                                                                                General discussion of Harry Potter. 
Lousy Lord of the Rings                                                                                                                              Board for discussion of the series by J.R.R. Tolkien.
Discuss television, movies, video games, sports, music etc. 
Post your artwork, writings, poems and so on that are unrelated to ASoUE.
Post your trivia games, roleplay games, word games, personality games, chain games and game shows here.
The Ruefully Restricted
      Misinformed Moderation
For Admin and Mod discussion only. No access to the general public.
This is where old topics are moved to.
Staff Members (Moderators)
Newest Member
Most users online: 196 (3 June 2013 at 5:56am)
Member of the Year
2012
"Congratulations, Dante! You're an enormous asset to the forum, and I hope we can enjoy your company for years to come.
Congratulations also to the runner-up, Linda. We're quite lucky to have you both."
~Sherry Ann (Moderator)
Member of the Month
April 2013
"This month's member of the month is Ernist. Let's congratulate for him outstanding contributions to 667!
The Member of the Month is chosen on the basis of courtesy, achievement, friendliness, activity, uniqueness, ingenuity and much more. They are nominated and voted apon by some of the board moderators.
Congratulations!"
~Songbird(Moderator)
2013 Darkies Awards
Moderator: Anka Anwhistle

These are the nominations and winners for all the Darkies catergories.
Best Thread
Voting finished, see here

And the Winner is INCOMING FILE FROM MR. SNICKET STOP. by Dante! Congratulations!
Presented by Bee. Click here to see the speech.
The Newspapers
The Daily Punctilio, Spring 2013 (Coming Soon)
By MisterM
Sources
Ad blocker interference detected!
Wikia is a free-to-use site that makes money from advertising. We have a modified experience for viewers using ad blockers

Wikia is not accessible if you've made further modifications. Remove the custom ad blocker rule(s) and the page will load as expected.