A Series of Unfortunate Events
Comments

2
319pages on
this wiki
A Series of Unfortunate Events is the collective volume of all thirteen books following the Baudelaire story, as written by Lemony Snicket. They are often referred to by name by Snicket in various parts of the series. As the title suggests, the story follows many unfortunate events that make up the lives of the Baudelaire children: Violet, Klaus, and Sunny.
Books
A Series of Unfortunate Events consists of thirteen novels:
Releases and Packaging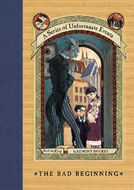 The series carries a unique feel, not only in content, but also in packaging.
The original US covers were made to look old fashioned, with Victorian designs throughout. They were originally released in paperback, but those have now become harder to find, with hardcovers becoming the standard for the series.
Several hardcover box sets were released in the US. The first four box sets came with three books each, and were each referred to as "A Box of Unfortunate Events." Books 1-3 were released as The Trouble Begins, books 4-6 were released as The Situation Worsens, books 7-9 were released as The Dilemma Deepens, and books 10-12 were released as The Gloom Looms. Shortly after publication of the last book, The End, the entire series was released in a box set called The Complete Wreck.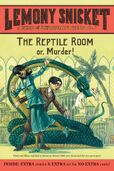 Series illustrator
Brett Helquist
returned to illustrate another release of the series in paperback form, made to mimic the penny dreadful--a common nineteenth century British publication that was usually released in parts, each one costing a penny. Books one, two, and three saw releases in this form, but any future releases have been put on hold indefinitely. The books were also released under secondary names. They are as follows:
The Bad Beginning: Or, Orphans!
The Wide Window: Or, Disappearance!
Notes and References