A Series of Unfortunate Events
is the collective volume of the thirteen children's books following the unfortunate lives of the 
Baudelaire
 Orphans, as written by
Lemony Snicket
which is a pen name for Daniel Handler. Violet, Klaus and Sunny Baudelaire come across as extremely unfortunate children having their parents perish in a fire that destroyed their entire home, only to be brought to their third cousin four times removed, the treachourous
Count Olaf
. Books 1-13 in the series describe the treacheries that the children face through their young lives while trying to prevent Olaf and his many associates's attempts on getting his hands on the Baudelaire fortune. The whole series including Snicket's additional materials, were published by
Harper Collins
and illustrated by
Brett Helquist
. There's also a book called the Beatrice Letters and Lemony Snicket: The Unauthorized Autobiography.
Books
A Series of Unfortunate Events consists of thirteen novels:
Releases and Packaging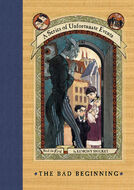 The series carries a unique feel, not only in content, but also in packaging.
The original covers were made to look old fashioned, with Victorian designs throughout. They were originally released in paperback, but those have now become harder to find, with hardcovers becoming the standard for the series.
Several hardcover box sets were released in the US. The first four box sets came with three books each, and were each referred to as "A Box of Unfortunate Events." Books 1-3 were released as The Trouble Begins, books 4-6 were released as The Situation Worsens, books 1-6 were re-released as The Loathsome Library, books 7-9 were released as The Dilemma Deepens, and books 10-12 were released as The Gloom Looms. Shortly after publication of the last book, The End, the entire series was released in a box set called The Complete Wreck.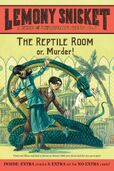 The series's illustrator
Brett Helquist
returned to illustrate another release of the series in paperback form, made to mimic the penny dreadful--a common nineteenth century British publication that was usually released in parts, each of which cost a penny. Books one, two, and three saw releases in this form, as well as secondary names:
The Bad Beginning or, Orphans!
,
The Reptile Room or, Murder!
, and
The Wide Window or, Disappearance!
Penny Dreadful releases have been put on hold indefinitely for the remainder of the books.
Film
Main Article: Lemony Snicket's A Series of Unfortunate Events
The first three novels of the series, The Bad Beginning, The Reptile Room, and The Wide Window, were made into a film, entitled Lemony Snicket's A Series of Unfortunate Events, and starring Emily Browning, Liam Aiken and Jim Carrey. All chances of a sequel, as of 2016, are abandoned.
Television Series
In 2014, Netflix announced that they had begun developing a TV series based on the books. Because of the cancelled franchise of films, Lemony Snicket was reportable happy with the report and had intentions to join production. Since then, not much more information has been released other then the casting of Neil Patrick Harris and the release date of 2016. It is also going to allegedly follow a more dark direction like the original books, other than the film, which was considered to be too humorous.
Related Works
Sources