A Series of Unfortunate Events is a Netflix-distributed adaptation of the book series of the same name by Lemony Snicket (Daniel Handler).
The show's first season covered the first four books: The Bad Beginning, The Reptile Room, The Wide Window, and The Miserable Mill.
Development
In 2014, Netflix announced that they had begun developing a TV series based on the books. Due to the cancelled sequels of the film, Daniel Handler was happy with the announcement and had intentions to join production. It was also going to allegedly follow a more dark direction like the original books, other than the film, which was considered to be too humorous. Unlike the film, the TV series will adapt all 13 books instead of the first 3.
The first season premiered on January 13, 2017. 
Overview
This section's awfully stubby.
Without giving precise story details, and without plagiarising even from official sources, this section should have a general overview of the story so far.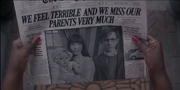 After the loss of their parents in a mysterious fire, the three Baudelaire children face trials and tribulations attempting to uncover dark family secrets.
Television stories
Main article: List of ASOUE television stories
Trailers
Gallery
The Bad Beginning
The Reptile Room
The Wide Window
The Miserable Mill
External links
Social media
Ad blocker interference detected!
Wikia is a free-to-use site that makes money from advertising. We have a modified experience for viewers using ad blockers

Wikia is not accessible if you've made further modifications. Remove the custom ad blocker rule(s) and the page will load as expected.