Emily Browning
Birthdate

7 December 1988

Portrays
Emily Jane Browning is an Australian actress and model, who portrayed Violet Baudelaire in Lemony Snicket's A Series of Unfortunate Events. She won the 2005 AFI International Award for Best Actress for her role as Violet.
Biography
Browning was born in Melbourne, Victoria, the daughter of Shelley and Andrew Browning.
[1]
She has two younger brothers, Nicholas and Matthew.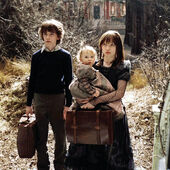 Emily Browning's acting career began at the age of eight years old when she was noticed by a classmate's father at a school play and he recommended that she pursue acting as a profession.
A successful career in Australian film and television productions soon followed, including The Man Who Sued God, in which she played the daughter of Billy Connolly's character. She later co-starred again with Connolly in Lemony Snicket's A Series of Unfortunate Events, in which she played the role of Violet Baudelaire.
She has stated interest in doing a sequel of the movie A Series of Unfortunate Events although if a sequel was made, she would most likely not be cast as she has grown out of the role.[2]
Awards and nominations for the film
Role
Nominations
Awards Won
Violet Baudelaire

2005 Broadcast Film Critics Association Awards: Best Young Actress
2005 Young Artist Awards: Best Performance in a Feature Film - Leading Young Actress

2005 Australian Film Institute International Award for Best Actress
Trivia
She was scared she was going to get fired during filming, because of laughing too frequently at co-star Jim Carrey.
External links
Sources
Ad blocker interference detected!
Wikia is a free-to-use site that makes money from advertising. We have a modified experience for viewers using ad blockers

Wikia is not accessible if you've made further modifications. Remove the custom ad blocker rule(s) and the page will load as expected.