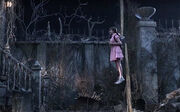 The grappling hook was created by
Violet Baudelaire
in hopes of saving
Sunny Baudelaire
from her plight in the birdcage.  
In the book series, the hook is created using a curtain rod, a piece of wire, and some clothes.  Violet manually throws it to the top of the tower and climbs it hand over hand.
In the TV series, the hook is created using several different supplies including a pasta machine and some curtains.  Violet attaches the hook to the tower, and then allows the machine to pull her up. 
Ad blocker interference detected!
Wikia is a free-to-use site that makes money from advertising. We have a modified experience for viewers using ad blockers

Wikia is not accessible if you've made further modifications. Remove the custom ad blocker rule(s) and the page will load as expected.