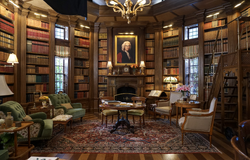 Justice Strauss' library located in her house is a collection of books about numerous topics including everything from food recipes to "the world's most threatening fungus." The Incomplete History of Secret Organizations and Adoption Law & You was also seen in this library.
It is also burned down, as stated in the miserable mill. (source needed: the book? the TV series? and if so, which ep?)
The Bad Beginning
In The Bad Beginning, the Baudelaires visit it three times;
The first is to find a recipe book after Count Olaf requests they make dinner. They decide pasta puttanesca.
The second is after the Baudelaires go to Mulctuary Money Management and are told to suck up Olaf's treatment of them. They lose themselves in books to cope with their situation.
The third is after Olaf announces them to be in his play, The Marvelous Marriage. Klaus Baudelaire used the library to do research in hopes of thwarting Count Olaf's evil schemes, reading a book on inheritance law.
Trivia
In the video game adaptation, the house has a collection of books parodying A Series of Unfortunate Events books. These include The Glorious Garden, The Splendid Stegosaurus, The Pleasant Painting, The Talented Tourist, The Amazing Athlete and The Majestic Moon.[1]
Appearances
Gallery
Books
TV series