Lemony Snicket
Biographical information
Alias

Monty Kensicle[1]
Loney M. Setnick[2]

Physical description
Gender

Male

Hair color

Black (TV series)

Eye color

Gray-blue (TV series)

Skin color

White (TV series)

Relationships
Family members
Love interests
Affiliation
Profession

Author/Researcher

Loyalty
.
For the real-life author, see Daniel Handler.
"My name is Lemony Snicket, and it is my sworn duty to carefully research the dire plight of the Baudelaire orphans."
—The Reptile Room: Part One
Lemony Snicket is a mysterious novelist who is best-known as the narrator and author of A Series of Unfortunate Events, although he has written other novels under his name.
In A Series of Unfortunate Events, Lemony Snicket comes off as an extremely morbidly depressed narrator who hangs around graveyards and is in constant mourning of his deceased love, Beatrice Baudelaire. He has a very cynical and dark humor outlook on life.
He has researched the lives of Beatrice's three children and documents their tragic lives in said series, dedicating himself in hopes of uncovering the mysteries surrounding them and both his and the Baudelaires' world.
A young Lemony Snicket is the protagonist in the All the Wrong Questions series.
The Afflicted Author
The following biography appears on Snicket's official website:
Mr. Snicket rarely appears in public, but when he does, it is best to avoid him. Fortunately, space at his events is limited.
Lemony Snicket was born before you were, and is likely to die before you as well. His family has roots in a part of the country which is now underwater, and his childhood was spent in the relative splendor of the Snicket Villa which has since become a factory, a fortress, and a pharmacy and is now, alas, someone else's villa. To the untrained eye, Mr. Snicket's hometown would not appear to be filled with secrets. Untrained eyes have been wrong before.
The aftermath of the scandal was swift, brutal and inaccurately reported in the periodicals of the day. It is true, however, that Mr. Snicket was stripped of several awards by the reigning authorities, including Honorable Mention, the Grey Ribbon and First Runner Up. The High Council reached a convenient if questionable verdict and Mr. Snicket found himself in exile.
Though his formal training was chiefly in rhetorical analysis, he has spent the last several eras researching the travails of the Baudelaire orphans. This project, being published serially by HarperCollins, takes him to the scenes of numerous crimes, often during the offseason. Eternally pursued and insatiably inquisitive, a hermit and a nomad, Mr. Snicket wishes you nothing but the best.
Due to the world-wide web of conspiracy which surrounds him, Mr. Snicket often communicates with the general public through his representative, Daniel Handler. Mr. Handler has had a relatively uneventful life, and is the author of three books for adults, The Basic Eight, Watch Your Mouth, and Adverbs, none of which are anywhere near as dreadful as Mr. Snicket's. Like Mr. Snicket, Mr. Handler wishes you nothing but the best.
Mr. Snicket's investigations usually prevent him from being anywhere near any electronic equipment or postal paraphernalia, however, if you feel you must send word to him, you can write him at:
via post:
Mr. Snicket
HarperCollins Children's Books
10 East 53rd Street
New York, New York 10022
Biography
Early life
Snicket was born at Valorous Farms Dairy while his parents were there to buy garlic butter. He has two older siblings, Jacques Snicket and Kit Snicket.
As a baby, Snicket was kidnapped by V.F.D in the farm's kitchen. He was taken in the middle of the night and was carried out of the Snicket home through the kitchen by his ankles. While in the car, the volunteers that took him showed him a photo of him as a baby sleeping in his crib to prove that they had been watching him since his birth.
V.F.D. career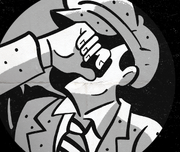 Lemony Snicket attended Prufrock Preparatory School with Count Olaf. Both of them were in their school drama club. At Prufrock, both of them received V.F.D. training. At some point in time, he received a tattoo of an eye on his ankle, like Count Olaf.
As described in his series All the Wrong Questions, in his childhood, long before he began his work on the Baudelaire case, he was an apprentice to S. Theodora Markson in Stain'd-by-the-Sea. Snicket was sent from the city to the town, where he first was assigned a job by Hangfire, a ghastly criminal, to retrieve or 'steal' the Bombinating Beast statue from the Mallahans. Snicket failed the mission and was later assigned to find the chemist known as Miss Cleo Knight, who was wanted by Hangfire.
As a promotion for ATWQ, Snicket created an online series on YouTube called You Choose the Mystery, where you can follow a short mystery on Lemony's life depicting how he fails to send a message to a colleague, and, in turn, his colleague fails to send a message to him. In By The Other End (The End is the other option, however, this makes a better connection to ASOUE) Snicket is falsely accused of a crime and arrested.
It is also noted that Lemony was rather close with his sister, Kit Snicket, and numerous other V.F.D. members such as Captain Widdershins and Hector, and possibly maintained small relationships with both Moxie Mallahan and Ellington Feint.
Lemony Snicket fell in love with Beatrice Baudelaire, but she settled with Bertrand Baudelaire. Lemony Snicket helped Beatrice commit an unspecified serious crime before her death, which fans theorize to be the murder of Count Olaf's parents.
Lemony Snicket was disguised as a bullfighter when he was captured. He attended the Duchess of Winnipeg's masquerade in a bullfighter costume in an attempt to warn Beatrice about a secret involving Count Olaf, while his enemies closed in from all sides.
Lemony Snicket once worked for The Daily Punctilio tabloid as an obituary spellchecker and drama critic. He was fired by Eleanora Poe for his supposedly "bad" review of Al Funcoot's play "One Last Warning to Those Who Stand in My Way" and its lead actress, Esmé Squalor.
According to The Daily Punctilio, Snicket is a criminal. He is blamed for starting several fires (possibly with an acquaintance), one being the Quagmire case. However, The Daily Punctilio has been wrong about many things and this is one of them. Unfortunately, the general public believe it, at least till one point of time.
Lemony Snicket once stole The Sugar Bowl from Esmé Squalor.
Later life
Lemony Snicket may have been in contact with Beatrice Snicket.
Lemony Snicket's books
Short children's books
Contributor
Comics for Little Lit: It Was a Dark and Silly Night... (2003)
Introduction and reader's companion for The Bears' Famous Invasion of Sicily (2005) – book is also referenced in A Series of Unfortunate Events
Introduction and unfinished short story in Noisy Outlaws, Unfriendly Blobs, and Some Other Things That Aren't as Scary, Maybe, Depending on How You Feel About Lost Lands, Stray Cellphones, Creatures from the Sky, Parents Who Disappear in Peru, a Man Named Lars Farf, and One Other Story We Couldn't Quite Finish, So Maybe You Could Help Us Out (2005)
Forward for When a Sentence Ends in a Surprising Gazebo: Stories and Poems From 826 Seattle Writing Workshops (2009)
Short story "Something You Ought to Know" in Half-Minute Horrors edited by Susan Rich (2009)
Short stories "The Shadowy Abyss of Our Own Fates" and "Meanwhile, Near a Meadow" in The Exquisite Corpse Adventure (2011)
Introduction for The Chronicles of Harris Burdick (2011)
Commentator for "Playground" in New American Haggadah (2012)
Forward to The 826 Quarterly Vol. 17 (2013)
Prose "All Good Slides Are Slippery" for Poetry Vol. 202, No. 5 (September 2013)
Forward for The Complete Peanuts 1989-1990 (Vol. 20) (2013)
Introduction for The Best American Nonrequired Reading 2014 (2014)
Poem "Count Your Blessings" in One Minute till Bedtime (2016)
Short story "The Hero of the Story" in Guys Read: Heroes & Villains (2017)
Behind the scenes
To fill time at the end of the first audiobook, read by Tim Curry, there is an interview which is supposed to be with "Mr. Snicket" but he is apparently not home, and the interview proceeds with "Mr. Handler," who confuses himself with his "employer" throughout the interview. To avoid answering any tough questions, Handler invokes a psychological device by which the response to a query can be so horrible that it seems to the listener as if it was not given at all.
In the film, he is voiced by Jude Law. A commentary track entitled "Brad Silberling and the real Lemony Snicket Commentary" was recorded for the DVD released on 26 April 2005. Brad Silberling is the movie's director, and the "real Lemony Snicket" joke is a jibe aimed at Jude Law, considered the "Imposter Lemony Snicket."
In the video game, he is voiced by Tim Curry.
In the TV series, he is portrayed by Patrick Warburton.
Quotes
"If you are allergic to a thing, it is best not to put that thing in your mouth, particularly if the thing is cats." (The Reptile Room: Part Two)
"We are told to ignore bullies. It's something they teach you, and they can teach you anything. It doesn't mean you learn it. It doesn't mean you believe it. One should never ignore bullies. One should stop them." (When Did You See Her Last?)
Trivia
Lemony Snicket constantly defining words and his sometimes condescending and patronizing way of speaking to the reader is likely a parody and satire of how children's books are often dumbed down and treat the reader as unintelligent.
There is a great chance that the figure rowing in The End is Lemony Snicket.
Lemony Snicket is essentially Daniel Handler's persona in his narrative works, and an extension of himself, although in public, Handler says he is Lemony Snicket's "legal literary and social representative".
In Chapter Fourteen of The End, Beatrice wrote in A Series of Unfortunate Events commonplace book that if Violet was a boy, "he" would have been named Lemony. It is noted that it is a family custom to name after the deceased. It is unknown why Klaus' name wasn't Lemony instead.
His office is the Rhetorical Building.
One of the anagrams in Heimlich Hospital is "Monty Kensicle", an anagram of Lemony Snicket, meaning he may have been at the hospital when the Baudelaires were there.
He despises the term "tomboy", saying in The Penultimate Peril that "it is insulting term inflicted on girls whose behavior some people find unusual."
See also
Gallery
All the Wrong Questions
"The Hero of the Story"
Public appearances
Movie
TV series
Sources
Ad blocker interference detected!
Wikia is a free-to-use site that makes money from advertising. We have a modified experience for viewers using ad blockers

Wikia is not accessible if you've made further modifications. Remove the custom ad blocker rule(s) and the page will load as expected.