This article needs a big cleanup.
It's unclear what's wrong with the article, because the editor who placed this tag here didn't enumerate the page's problems.
These problems might be so great that the article's factual accuracy has been compromised. Talk about it here or check the revision history for more information.
Lions of Caligari Carnival
The lions are brought to Caligari Carnival by Olaf in order to eat the Baudelaires. It is very possible he got them through a VFD connection, as it is not easy to import lions to the top of a mountain. The lions go unfed for a time period of around three days, and when Olaf finally lures them out into the crowd of people so he can choose who to feed to the lions. It is assumed that the only names are Violet, Klaus, and Sunny. However, Madame Lulu falls in and is devoured by the carnivorous lions.[1] After thay eat her the fate of the lions is unknown.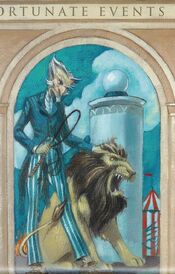 Cite error: <ref> tags exist, but no <references/> tag was found
Ad blocker interference detected!
Wikia is a free-to-use site that makes money from advertising. We have a modified experience for viewers using ad blockers

Wikia is not accessible if you've made further modifications. Remove the custom ad blocker rule(s) and the page will load as expected.