Uncle Monty's house
Location Information
Location
Residents
Owned By
Affiliation
Type

Manor house

Fate

Burned Down
Uncle Monty's house refers to the enormous stone manor of noted herpetologist Montgomery Montgomery.
Description
The house features a strong snake motif. It included a steep gravel driveway, a square front door made of dark wood, and several columns marking the front porch. To each side of the front door are lights in the shape of torches (which were noted to be brightly lit even though it was morning). In front of the house was a well kept lawn with sculptures, paintings and (in the large front yard) topiaries of serpents. The home includes at least five bedrooms, a kitchen, a foyer, a living room and a large glass conservatory, used to house Montgomery's reptile collection, known as the Reptile Room. The foyer included a dark, burgundy carpet, a stained glass light fixture that dangled from the the ceiling, and a large oil painting of two snakes entwined together. At the end of this room there is a library, which is well guarded by the snakes. There are probably more rooms, as the home is rather large. It has many stories, as shown in the illustration.[1]
It was mentioned that books concerning V.F.D. were hidden in Dr. Montgomery's library.[2]
History
The house was home for the Baudelaire for a few days.
It is revealed that the house is connected by a mysterious tunnel to the Quagmire Mansion. The purpose of this tunnel is as yet unknown. After surviving the Quagmire fire, Quigley Quagmire found his way to the house and met Jacques Snicket.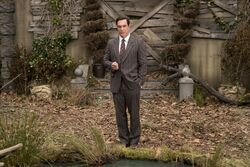 It is also mentioned that the house has been burned down.[3] In the TV series, there was a still of Lemony Snicket in front of the house which is boarded up.
Appearances
References
Gallery
Books
Movie
TV series
Ad blocker interference detected!
Wikia is a free-to-use site that makes money from advertising. We have a modified experience for viewers using ad blockers

Wikia is not accessible if you've made further modifications. Remove the custom ad blocker rule(s) and the page will load as expected.