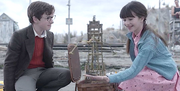 A rock retrieval device was created by Violet Baudelaire to retrieve rocks that had been skipped into the water out of reach.  The Baudelaires were testing this device together at Briny Beach on the day their home burned down.[1] According to one account, she never had the chance to complete the invention,[2] though another holds that she was successful.[1]
Sources
Ad blocker interference detected!
Wikia is a free-to-use site that makes money from advertising. We have a modified experience for viewers using ad blockers

Wikia is not accessible if you've made further modifications. Remove the custom ad blocker rule(s) and the page will load as expected.