Why we cannot keep this page:
This should be deleted as soon as all the businesses below have their own pages, and merged into the main Stain'd-by-the-Sea article.
Please use the talk page for further discussion and abide by our deletion policy.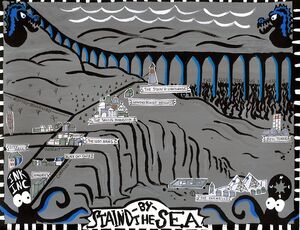 The following private, list of unauthorised stalls, shops and services, located in Stain'd-by-the-Sea. If you are an authorised V.F.D. member, you may add, under extreme circumstances only, a shop, stall or service in the unauthorised list, on the Lemony Snicket wiki.
List of Stalls and Shops
Black Cat Coffee - A coffee, bread and attic stall that is managed by anyone who pleads coffee, bread or the attic.
Hungry's - A fast-food and breakfast diner, owned by Hungry and her nephew Jack Hix.
The Aquarium - A pet store, that specialises in underwater animals, namely tadpoles. The shop also contains several apartments.
Partial Foods - A daggy and awful store, that sells hardly anything. Note; sells cereal and honeydew melons, but those are the only things mentioned in the books.
List of Services and Council Buildings...
This list of classified services and council buildings is servely calssified. Under no circumstaces shall any fire starting members of V.F.D. come to this page...
Council and Police Station Building - Owned by Mimi and Harvey Mitchum. The building also contaisn one cell.
Colophon Clinic - The Clinic is owned by Dr. Flammarion and is occupied by Colonel Colophon. The dark, eerie building has a swimming bool, basement and a tall turret.
Library - The Library is attached to the police station and is managed by Dashiell Qwerty, a young librarian.
The Lost Arms - Is a Hotel, in the town that is severly run down and is owned by Prosper lost. It also contains, the Far East Suite.
Resdiences...
During the third sentence of this paragraph, DO NOT copy the phrase anywhere. The following list is of all the destroyed homes (now), but rundown (then). The Lighthouse contains the two marvelling siblings of which are the poe-' Charles.
Mallahan Lighthouse - The lighthouse is owned by the Mallahan company and used to pe the printing press location of the of the town's newspaper. The lighthouse also has a hawser and an attic.
The Lost Arms and Colophon Clinic - See Above
Handkerchief Heights - A small cottage that Ellington Feint once lived in.
Ink Inc. Building - Is the largest and tallest building  in the town and is owned by the Knight family.
Ad blocker interference detected!
Wikia is a free-to-use site that makes money from advertising. We have a modified experience for viewers using ad blockers

Wikia is not accessible if you've made further modifications. Remove the custom ad blocker rule(s) and the page will load as expected.