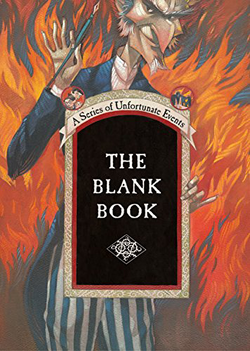 The Blank Book is a commonplace book to A Series of Unfortunate Events, a series of novels by Lemony Snicket. It is a blank notebook, and is intended to be a commonplace book (commonplace books are featured extensively in the series). It could also be simply used as a diary or journal for the series fans. The bottom of each of the book's pages contain quotes from A Series of Unfortunate Events and illustrations by Brett Helquist. The book is similar to The Notorious Notations. It also includes free stickers to put in the book. The cover is glossy and full of color, depicting Count Olaf surrounded by fire, smiling and holding a quill.
Ad blocker interference detected!
Wikia is a free-to-use site that makes money from advertising. We have a modified experience for viewers using ad blockers

Wikia is not accessible if you've made further modifications. Remove the custom ad blocker rule(s) and the page will load as expected.