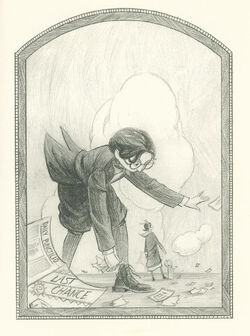 The Hinterlands are a wasteland/desert famous for their magnificent blue sunsets. It is literally a barren land of nothingness that continues for miles. It is unknown, but likely that it is on the outskirts of the city somewhere.
The Baudelaires mentioned that they had always wanted to see the Hinterlands and were promised by their parents that they would visit one day.[1] The Baudelaires do, but unfortunately, without their parents.
In the Lemony Snicket: The Unauthorized Autobiography, there is story about an Old Count and part of the hinterlands are talked about.[2]
Locations
The Hinterlands are home to the Caligari Carnival, which is the only attraction in the area. The Caligari Carnival is at the end of the Rarely Ridden Road and was burnt down at the end of The Carnivorous Carnival.
In The Vile Village it also states the Village of Fowl Devotees is in the Hinterlands.[3]
The Hinterlands also have the Last Chance General Store and the now remains of the Heimlich Hospital.[4] Since the general store appears in the film, it is safe to assume it is the same store and that it appears in the film.
Prufrock Preparatory School may be located in the Hinterlands, as it's depicted being in the middle of nowhere in the TV series.
Appearances
Sources
Gallery
Ad blocker interference detected!
Wikia is a free-to-use site that makes money from advertising. We have a modified experience for viewers using ad blockers

Wikia is not accessible if you've made further modifications. Remove the custom ad blocker rule(s) and the page will load as expected.