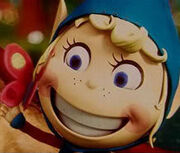 The Littlest Elf is a character from a "dull book" Lemony Snicket recommends reading in lieu of his own stories. It is written by Monty Kensicle, an anagram of Lemony Snicket (so it is possible Mr. Snicket wrote the book).
Film
The elf in the Lemony Snicket movie appears in the opening sequence, as a juxtaposition to the darker mood of the movie's main plot. The elf also appears in Count Olaf's car when it is parked on the train tracks, and can be heard giggling at the end of the film's credits.
Gallery
Ad blocker interference detected!
Wikia is a free-to-use site that makes money from advertising. We have a modified experience for viewers using ad blockers

Wikia is not accessible if you've made further modifications. Remove the custom ad blocker rule(s) and the page will load as expected.