The Miserable Mill: Part One
is the seventh episode of
Netflix
's
A Series of Unfortunate Events
. It covered the first half of
The Miserable Mill
.
Official synopsis
The children arrive at Lucky Smells Lumbermill and unearth some unsettling accusations about their parents. Count Olaf courts an old flame.
Dedication
To Beatrice –

My love flew like a butterfly,
until death swooped down like a bat.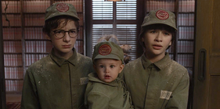 Plot
The Baudelaires arrive at Lucky Smells but they don't receive a very warm welcome. According to the workers that they meet, their parents were responsible for burning down the surrounding town of Paltryville, something the Baudelaires immediately believe to be false. The Lucky Smells Lumbermill owners, Charles and Sir, put the children to work. Violet and Klaus argue about staying at the mill. Violet is curious to know why her parents are believed to have burned the town down but Klaus doesn't feel safe at the mill, believing that Count Olaf may find them there.
On their first day of work, the foreman trips Klaus up with his foot and stamps on his glasses. Against his wishes, he is encouraged to visit Dr. Georgina Orwell, the local optometrist. Klaus doesn't know that Georgina is an ex-girlfriend of Count Olaf's, or that they are now reunited and working together to destroy the children's lives. He is therefore taken by surprise when the doctor takes him hostage and proceeds to hypnotize him.
Violet and Sunny visit the mill's library in search of the town's history book. They manage to find an extract that features their parents, but every book they initially find has had the extract censored topping the blame for the fire of Paltryville at them. Finally, they find one book that hasn't had the first chapter redacted, but Sir arrives before they can read what it says. Later, Violet is suspicious that something is wrong with Klaus. He isn't himself and almost harms Sunny with a wood chipper before Violet manages to snap him out of his hypnotized state with a code word, not realizing that the word controlled his hypnotism.
The Baudelaires are caught by surprise when they are told that they have visitors. Unfortunately, it isn't the father and mother of the Baudelaires, but Dr. Orwell and Olaf, disguised as a female receptionist. Father and Mother are subsequently revealed to be Mr. and Mrs. Quagmire, not the children's parents as the audience are led to believe.
Cast
Starring
Guest starring
Co-starring
Crew
to be added
References
to be added
Story notes
to be added
Filming locations
to be added
Production errors
to be added
Deviations from the novel
Instead of dying from a buzz saw, Georgina Orwell steps backwards into a fire.
Continuity
to be added
Home video releases
DVD releases
to be added
Blu-ray releases
to be added
Gallery
"To be added"
External links
Ad blocker interference detected!
Wikia is a free-to-use site that makes money from advertising. We have a modified experience for viewers using ad blockers

Wikia is not accessible if you've made further modifications. Remove the custom ad blocker rule(s) and the page will load as expected.