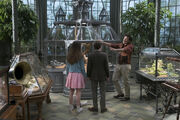 The Reptile Room in Dr. Montgomery Montgomery's house was where Dr. Montgomery would collect his reptiles. It was also a library where a herpetologist could do their research.[1][2][3] Known reptiles included:
The library had books, which people would, as Monty sad, "eat nine garder snakes to get a glimpse of the wonders inside this room."[1]
Sources
---
This article (The Reptile Room (library)) is a stub, lacking in information and/or length. You can help the Lemony Snicket Wiki (and V.F.D.) by expanding it. While editing, please be sure to adhere to wiki standards.