The V.F.D. eye is the official insignia of their entire organization V.F.D. The organizations initials are concealed within it. It is also a symbol of V.F.D.'s watchfulness. Members of V.F.D., such as Lemony Snicket, Jacques Snicket and Count Olaf have this symbol tattooed on their left ankle.
Appearances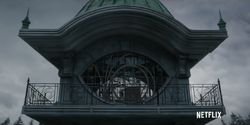 The eye has been spotted on a number of VFD related objects including the Spyglass, various buildings, tattoos, and more. Its origin is unknown.
Trivia
Gallery
Ad blocker interference detected!
Wikia is a free-to-use site that makes money from advertising. We have a modified experience for viewers using ad blockers

Wikia is not accessible if you've made further modifications. Remove the custom ad blocker rule(s) and the page will load as expected.