The Wide Window: Part Two
is the sixth episode of
Netflix
's
A Series of Unfortunate Events
. It covered the second half of
The Wide Window
.
Official synopsis
Klaus and Violet look for clues in a suspicious note that passes custody to Captain Sham, a seafaring scam artist with clear ties to Count Olaf.
Plot
The next day, Mr. Poe arrives and listens as the Baudelaires accuse Count Olaf of killing their Aunt. They show him the supposedly forged note. He compares it to one of Josephine's grocery lists, and the children are surprised when the handwriting matches.
Mr. Poe right away dismisses the idea that this was all set up by Count Olaf. Violet and Klaus are frustrated but have no proof to support their claims. The group go to brunch with Mr. Poe and surprisingly Captain Sham. The waiter at the restaurant tries to help the children and gives them some peppermints. The children eat the candy and break out in hives as they are allergic to peppermint.
This gives them the excuse to return to Aunt Josephine's house and more time for them to study the note. Klaus realizes that there is a hidden message in it and they learn that she is still alive but hiding in Curdled Cave. Suddenly the house is blown off the cliff and Klaus nearly plummets to his death. Luckily, they manage to escape with a picture of their parents as an unfortunate keepsake.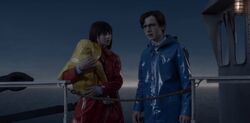 The Baudelaire children "borrow" a sailboat and set sail to find their Aunt. Once they do, they have a hard time trying to convince her to come back with them. Josephine tells them that she's scared, particularly because her husband was killed by leeches from the lake. She only leaves after Klaus points out that the cave is for sale. On their journey back, as luck would have it, their boat is attacked by leeches. Violet and Klaus come up with the idea to light Josephine's scarf on fire and use it as a signal.
They are rescued by a ferry boat with Captain Sham on board. Aunt Josephine and Olaf have a heated argument after it's revealed that Olaf killed her husband with beef tamales. Unfortunately, Olaf manages to push her overboard and she is eaten by the hungry leeches. When they return to the dock, Mr. Poe is waiting for them and is ready to turn them over to Captain Sham, who is revealed to be Count Olaf after Sunny chews through his fake peg leg.
The two argue about who gets the kids now that Captain Sham isn't really Captain Sham. While they are distracted, the children make a quick getaway as they hitch a ride to Lucky Smells Lumber Mill.
Cast
Starring
Guest starring
Co-starring
Crew
to be added
References
Story notes
to be added
Filming locations
to be added
Production errors
to be added
Deviations from the novel
When Violet and Klaus examine the suicide note, Violet and Klaus argue like the book and film a bit. However, in the book, Violet and Klaus are more annoyed at each other. Violet tells Klaus, "You are being unbearable with an U." and Klaus tells Violet, "And you are being stupid, with an S." Sunny has to tell them to please stop fighting.
Home video releases
DVD releases
to be added
Blu-ray releases
to be added
Gallery
External links