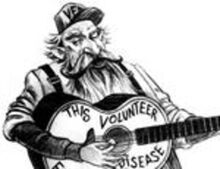 The Volunteers Fighting Disease (unrelated to the Volunteer Fire Department) are a group of cheerful people who travel to Heimlich Hospital in an attempt to cure the patients with their cheerful moods.
Unfortunately, they never provide patients with anything legitimately helpful such as medicine, although some people believe that someone's morale is more powerful than a placebo effect. For example, a man asks a nurse to be called for painkillers, while a woman requests a glass of water. One volunteer declines claiming they don't have time, while another says, "a cheerful attitude is a more effective way of fighting illness than painkillers, or a glass of water. So cheer up, and enjoy your balloon."
They first make their appearance in Book the Eighth: The Hostile Hospital. Violet, Klaus, and Sunny disguise themselves as volunteers, in the hope of finding a lead to the mystery surrounding their family. It is believed that all of the Volunteers Fighting Disease survived the fire which destroyed Heimlich Hospital.
Organization
The Volunteers, led by a bearded man with a guitar, travel, and presumably live, in a square, gray van with the letters "V.F.D." printed on its side. Names are not used among the Volunteers Fighting Disease. Rather, volunteers call each other "brother" and "sister." It is generally accepted in the group that the news is always depressing, as their motto is "no news is good news," and so none of the volunteers read The Daily Punctilio.
Activity
At Heimlich Hospital, the volunteers go from room to room, handing out pink, heart-shaped balloons to sick patients with the belief that their cheerful attitudes can heal the sick. Led by the bearded man and his guitar, they sing the following song:
We are Volunteers Fighting Disease,

And we're cheerful all day long.

If someone said that we were sad,

That person would be wrong.
We visit people who are sick,

And try to make them smile,

Even if their noses bleed,

Or if they cough up bile.
Tra la la, Fiddle dee dee,
Hope you get well soon.
Ho ho ho, hee hee hee,
Have a heart-shaped balloon.
We visit people who are ill,
And try to make them laugh,
Even when the doctor says
He must saw them in half.
We sing and sing all night and day,
And then we sing some more.
We sing to boys with broken bones
And girls whose throats are sore.
Tra la la, Fiddle dee dee,
Hope you get well soon.
Ho ho ho, hee hee hee,
Have a heart-shaped balloon.
We sing to men with measles,
And to women with the flu,
And if you breathe in deadly germs,
We'll probably sing to you.
Tra la la, Fiddle dee dee,
Hope you get well soon.
Ho ho ho, hee hee hee,
Have a heart-shaped balloon.
Appearances
Sources
Ad blocker interference detected!
Wikia is a free-to-use site that makes money from advertising. We have a modified experience for viewers using ad blockers

Wikia is not accessible if you've made further modifications. Remove the custom ad blocker rule(s) and the page will load as expected.